Katie Chen
Hi! I'm Katie and I'm from Cambridge, Massachusetts. I graduated from Boston College and I've worked as a research associate at HBS for the past several years. I'm interested in researching how social inequality influences people's experiences of work and organizations. Outside of research, I love spending time outdoors – especially rock climbing, skiing, and hiking. I'm very excited to meet the community at Wharton!

Manju Ganti
Manju Ganti graduated from Penn in 2018 where she studied Bioengineering and Management and was an undergraduate venture fellow with Wharton Leadership Ventures. After graduating, she spent some time in management consulting before moving to her current role as a Strategy and Business Operations Associate at Relativity, a legal technology firm headquartered in Chicago. Her research interests include meaningful work, experiential learning and leadership, group and team dynamics, and ethics.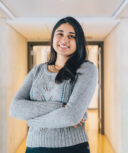 Anastasia Gracheva
Anastasia is from Illinois but grew up traveling to many countries. She graduated from the Columbia University and SciencesPo Paris Dual BA Program, where her departmental honors thesis addressed the role of non-market factors in energy-sector firm-level investments. Prior to joining the Wharton Political Risk Lab as a Research Assistant, she conducted research focused on the impact of culture on international trade as part of Columbia Business School's predoctoral fellowship. During her PhD, she plans to continue her studies of political risk management in conjunction with other key issues in international business. In her free time, Anastasia is an accomplished figure skater, an avid baker, and an occasional photographer.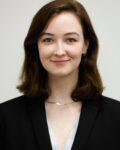 Stephanie Yu
Steph is an honors psychology student at the University of British Columbia. She conducted her junior thesis with Dr. Elizabeth Dunn on the psychological impact of conversing with chatbots. Her senior thesis, supervised by Dr. Jonathan Evans, explores how and why leaders display curiosity. Currently, her research interests center around the intersection between leadership and race/ethnicity, prosocial behaviors, and creativity. In her spare time, she's often listening to podcasts, going for strolls with friends, and fawning over her dying plants.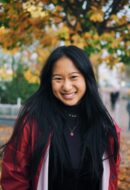 Miaomiao Zhang
Miaomiao received a B.S. in Applied Mathematics & Statistics and Economics from Emory University in 2020. Since then, she has been working as a research associate at the Harvard Business School Strategy Unit. She is broadly interested in topics around technology, specially technology adoption and diffusion within and across organizations, the division of labor in firm production, and innovation strategies. Methodologically, she wants to continue quantitative research that draws from computational social science techniques and leverage (field) experiments to tackle causal inference problems.